Sataloff Award
The Sataloff Award for Young Investigators, co-sponsored by Elsevier and The Voice Foundation, recognizes excellence among young researchers. The first Annual Sataloff Award was presented in 2009.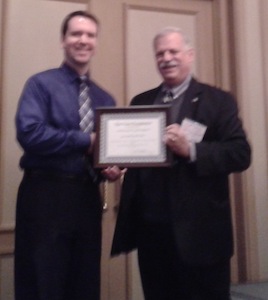 Aaron Johnson receives the 2013 Sataloff Award sponsored by Elsevier publishing.
This award is open to investigators who completed their training (including fellowship) no more than five years ago. Investigators must present new research for publication in Journal of Voice.
TO ENTER, include the following:
The nominees must

self-nominate

with a

Letter of intent

to the committee

by January 15th.

In one PDF – submit the letter with a short paragraph about your training and mentioning your research and include a copy of your submitted abstract.




Completed papers of abstracts

accepted for presentation at the annual symposium

need to be submitted to the committee and to

Journal of Voice

by April 1st.

Send your letter of intent to

abstracts@voicefoundation.org

by January 15th
The winner will be selected by an Advisory Board committee headed by Michael Johns, MD, and will be notified by The Voice Foundation.
THE WINNER RECEIVES
• Airfare, hotel, and registration for the Voice Foundation Symposium: Care of the Professional Voice
• An Award Certificate
• Recognition in the Journal of Voice and Voice Foundation materials.
2014
Jessica Sofranko-Kisenwether, Ph.D., CCC-SLP
2013
Aaron Johnson, Ph.D., M.M.
2012
Matthew Hoffman, Pre-doctoral Fellow
2011
Satoshi Ohno, M.D.
2010
Rosiane Yamasaki, Ph.D.
2009
Heather Shaw Bonilha, Ph.D., CCC-SLP
Copyright © 2014, The Voice Foundation | 219 N. Broad St. 10th Floor | Philadelphia, PA 19107 | (215) 735-7999